State of the Student Vote and Political Participation at UT-Austin
TX Votes, sponsored by the Annette Strauss Institute for Civic Life, is a non-partisan student organization dedicated to voter registration, education, and mobilization. During the 2020 election, TX Votes' Research Committee embarked on a research project to understand student-specific motivations and experiences around the election on the UT campus. We just released this new report.
Each presidential election, the Jonathan Tisch College of Civic Life at Tufts University measures voting rates among all participating institutions through the National Study of Learning, Voting, and Engagement (NSLVE). In 2020, 76.6% of UT students voted, a 17.7% positive change from 2016. The voting rate among all institutions was 66%, which means that UT leads the average rate by ten points.
Through surveying nearly 600 students and interviewing 50 of them, TX Votes was able to come up with several findings about the 2020 election. With early voting happening right now for the 2022 Texas midterm election, these findings are especially relevant.
Students are largely motivated by either a sense of civic duty, a desire for policy change, or a connection to a specific candidate.

The number of political conversations students had in 2020-2021 increased due to events including COVID-19, the Black Lives Matter protests, and January 6th.

While political conversations increased, students felt more siloed by political ideology. Since students were participating in classes at UT virtually due to the COVID-19 pandemic, they observed a loss in informal gathering spaces and political conversations with those different from them.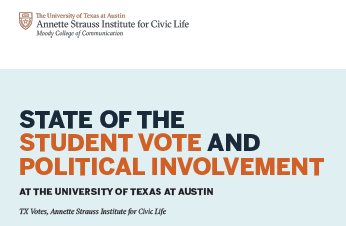 I interviewed Riley McKinzie, primary author of the report and International Relations & Global Studies/East Asian Studies graduate ('22) to learn more about her experience with this research.
Why did you do this report?
"The TX Votes' registration table was one of the first student orgs I interacted with on campus, and it addressed an issue that I hadn't thought of— how I would vote in my first election. Voter registration laws are often difficult to understand for many students who have never voted before and are unaware that in Texas you must re-register every time you move. This report addressed how students are civically and politically engaged in an in-depth and interesting way, especially with the COVID-19 pandemic. Understanding how and why students are engaging, where they are getting their news, and their general knowledge surrounding voting at UT is an essential step in ensuring that all students have access to vote, as well as be civically and politically engaged in varying ways."
 
What was the most surprising thing you learned from doing this research?
"It's well established that COVID-19 necessitated swift and surprising changes to everyone's daily lives. Specific to this research, it was surprising the impact and reliance on informal spaces on college campuses to facilitate civic engagement and political participation. Our generation is well equated with social media; however, it was surprising that a majority of students interviewed were uncomfortable with political conversations and engagement online. It was often stated that they were either unproductive, hard to gauge tone which lead to misunderstandings, or were draining. Due to the discomfort with online political engagement, the loss of informal spaces on college campuses led to many students not engaging civically or politically as much as they otherwise would have."
 
What is one thing that you hope University of Texas students take away from this report?
"No one's daily lives are untouched by politics/policy. While the majority of students cited 'civic duty' as their primary motivation for voting, many were quick to clarify that they often feel that voting does not matter for a plethora of reasons including the electoral college, gerrymandering, or campaign promises being unfulfilled. While these are all issues our political institution faces, the fact of the matter is that everyone is impacted by the policies and laws passed at the local, state, and national levels. Local and state politics are not as widely covered as national issues, but their impact can be monumental. So, overall, I would encourage students to further engage with their local and state governments (I mean the state of Texas has the 9th largest budget in the world)."