Students at the 2022 Texas Tribune Festival
A big part of civic engagement is understanding the political and cultural landscape of the world around you. And what's a better way to start than fully immersing oneself in all things state politics and civic life through dialogue and engagement?
Our Students @ the Fest program provides students an opportunity to hear directly from political figures, government officials, and award-winning journalists about the important issues facing Texas. Hosted by the Texas Tribune, TribFest is a three-day event that brings together some of the most prominent players in Texas politics for three full days of panels, sessions, and events. Our program provides students with a front-row seat to the action.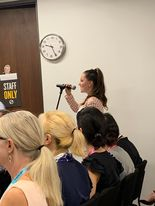 This year, we sponsored the attendance of 15 students from over 50 applicants, who attended alongside our 25 Texas Civic Ambassadors. In total, students from 18 Texas colleges and universities represented the Annette Strauss Institute at the event. With a pre-TribFest Orientation that featured the Texas Tribune's Bobby Blanchard and a new network of passionate, civic-minded students under their belt, the group hit the ground running. They were the first in line, eager to pose questions to panelists, and excited to share what they learned throughout the weekend.
As a group, Student @ the Fest students attended popular sessions featuring U.S. Secretary of Transportation Pete Buttigieg, U.S. Senator Ted Cruz, and U.S. Representative Liz Cheney. They also paired off for topic-specific sessions on media and tech, women's health, what to expect for the 88th Legislative session, and urban vs. rural politics, among other sessions. We're excited to say that the weekend objectives of exposing students to different points of view, interacting with speakers, and engaging in post-session discussions were enthusiastically achieved.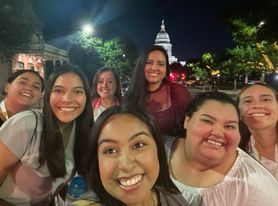 The following sentiment shared by one of our attendees cements the importance of cultivating more opportunities that inform young people, provide access to the political process, and foster civic discourse:
"I am simply grateful that I was given the opportunity to be in this kind of space. I learned so many things while expanding on things that I already knew. I felt much more connected to my community and to those that I am already serving." 
We look forward to increasing the number of student program participants next year!