Founded in 2000, the Institute is named after Annette Greenfield Strauss, an extraordinary woman whose accomplishments and commitments were legendary. Founding Director Dr. Roderick P. Hart purposed the Annette Strauss Institute for Civic Life as a space for collaboration between renowned scholars and motivated students to understand civic participation and increase engagement.
A celebration of 20 years at the Annette Strauss Institute
The Institute reflects on 20 years of civic discovery, bridging divides, and their impact at The University of Texas at Austin and throughout Texas
Dr. Rod Hart has a legacy of scholarship that will stand the test of time at Moody College. He is eternally curious about how people and politicians communicate in the public sphere and how those lessons can contribute to the greater good of our democracy.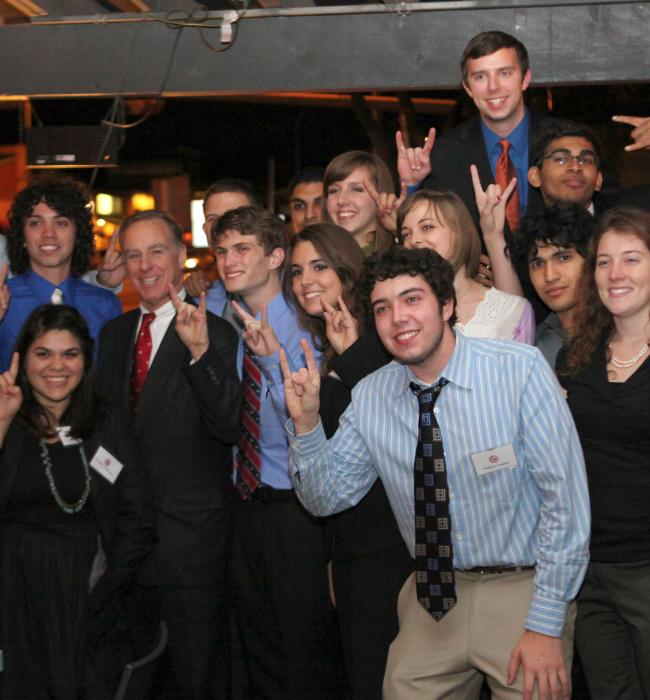 Did you know?
---
Since the Annette Strauss Institute began, more than 1,200 student staff and student volunteers have received appointments. In many cases, our students receive scholarships, tuition assistance and additional support, to enable their role in the Institute's research and educational outreach programs.
College students from more than 60 colleges and universities across Texas have participated in the institute's programs, which are often organized during student holidays, breaks or weekends to accommodate the often hectic student schedule.
10,682
Collegiate and Young Professionals Served
1,948
Campaign Materials Archived
60+
Colleges and Universities
11,216
K12 Students Served
1,221
Student Staff and Volunteers Involved
92
Student Awards