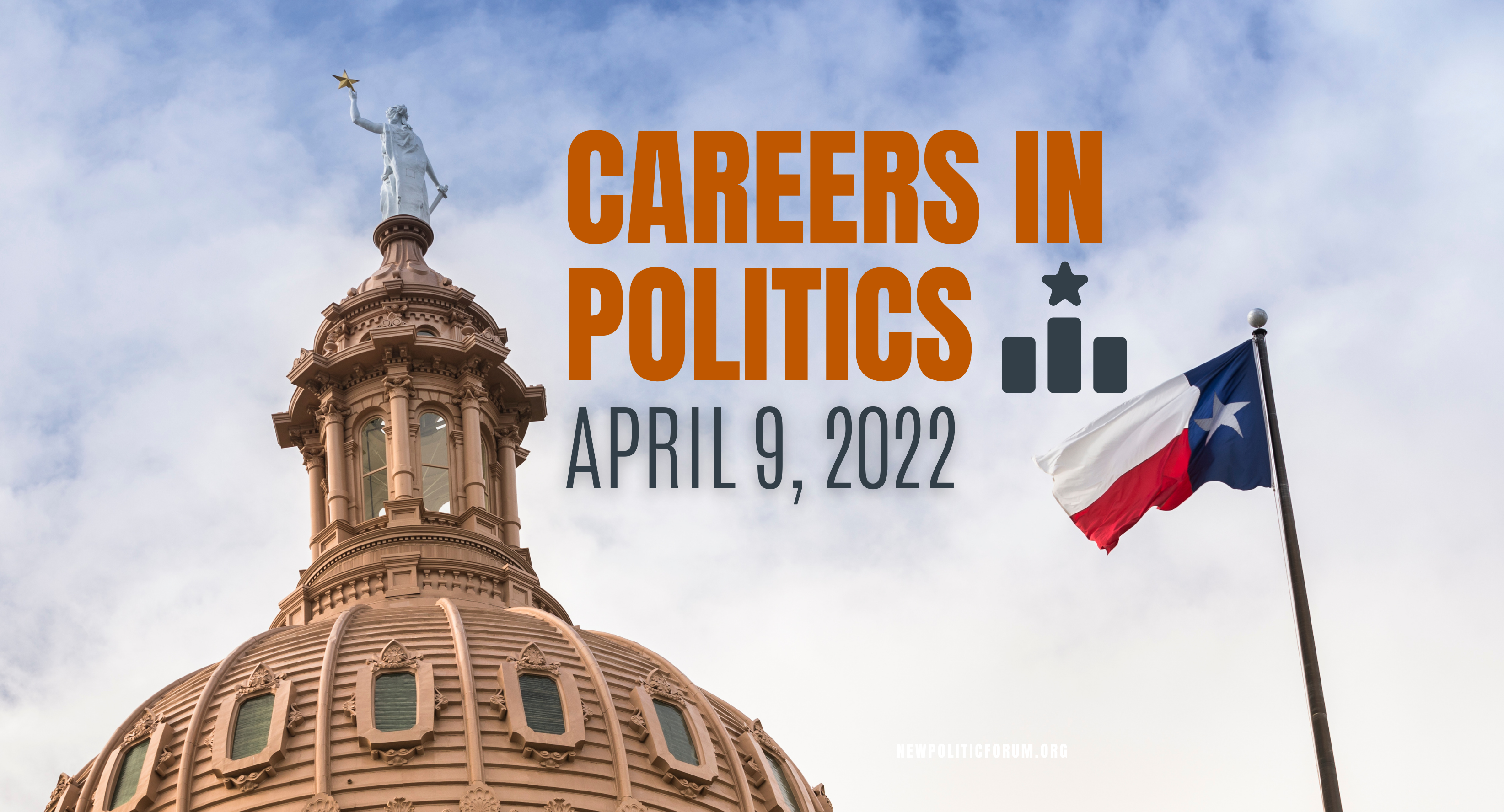 Join us in Austin, Texas on April 9, 2022
Careers in Politics is the University of Texas' premier political, public service, and government job-centric seminar. For over a decade, Careers in Politics has brought some of the biggest names in public service directly to students. We aim to cultivate networking opportunities, help attendees better understand their career options in the world of politics, and allow students to hear directly from political professionals. 
This event is designed with both undergraduate and graduate students in mind. Any student who is interested in understanding the various career paths in politics is encouraged to sign up! This event will feature keynote speeches, moderated panels, and a networking session. 
Registration is $5 and required to attend. Attendance will be limited to 80 participants. If you have any questions please contact Cole Wilson at cole.wilson@austin.utexas.edu. 
Event Schedule
10:00 AM
Registration and packet pick-up. Coffee and light refreshments will be served.
10:15 AM
Welcome and opening remarks by Annette Strauss Institute for Civic life
10:30 AM
11:00 AM
Panel: Policy, Politics, and Public Service: Working in and around law makers, learn how to navigate your future in politics, policy, and public service from the biggest names in Texas. 
12:00 PM
12:30 PM
Networking Session: Hors d'oeuvres and refreshments will be served on location. 
Learn from the biggest names in Texas Politics
This program is designed to help students better understand the various career paths in the world of policy, politics, and public service. The event will culminate in a catered networking session. Attendees are strongly encouraged to stay and network with other attendees. 
This event will adhere to Travis County, City of Austin, and University of Texas COVID-19 related recommendations and precautions. Please note that masking and social distancing guidance is subject to change before the event. 
There is no dress code enforced for Careers in Politics, but business casual attire is encouraged. 
Speakers will be announced soon. Check back here or follow us on Instagram, Twitter, and Facebook at NewPoliticsForum for updates!