The premier political, public service, and government job-centric seminar.
Registration for next year's program will open February, 2024. 
Looking to explore opportunities in public service and politics?
At Careers in Politics, you'll have the opportunity to learn from and connect with the biggest names in Texas politics, gaining valuable knowledge and making important professional connections. Our program is designed with both undergraduate and graduate students in mind, featuring keynote speeches, moderated panels, and a networking session. You'll gain insight into various career paths in the world of policy, politics, and public service, all while connecting with other motivated and driven students who share your passion for making a difference.
There is no official dress code – while business casual attire is encouraged. Our top priority is creating a welcoming and inclusive atmosphere that encourages learning and growth.
Stay up-to-date on upcoming events by checking this page or following us on Instagram, Twitter, and Facebook at NewPoliticsForum. Join us at Careers in Politics to take your first step toward a successful career in public service!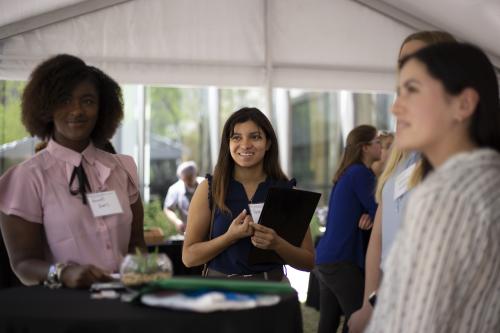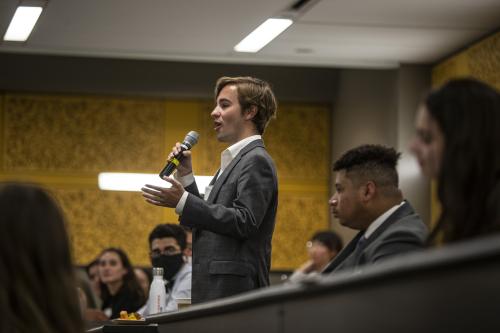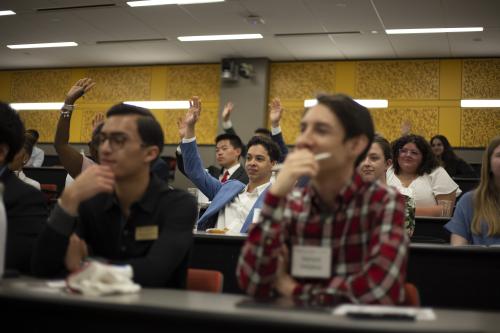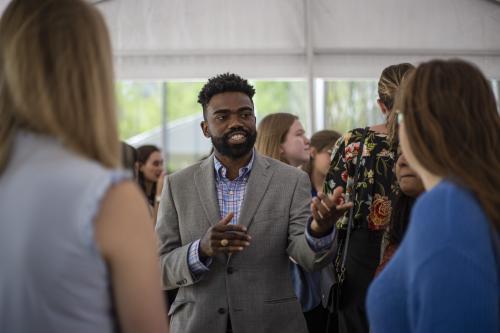 April 15, 2023 Program Schedule
9:30 AM  Registration and Packet Pick-Up
10:00 AM  Welcome and Opening Remarks
10:15 AM  Opening Keynote Address
Emmy Ruiz, American Political Advisor & White House Political Director
10:45 AM  Panel: Public Service and Impactful Community Work: Perspectives from Industry Leaders
Panelists: Scott Milder, Parisa Fatehi- Weeks, and Sheryl Sculley
Moderator: Daniel Marin, KXAN 
12:00 PM  Panel: Politics, Policy, and Public Service: Lessons from Texas Leaders
Panelists: Hon. Larry Gonzales and Representative James Talarico
1:00 PM  Networking Session: "We Did It So Can You"
Hors d'oeuvres and refreshments served on location
Panelists
Scott Milder: Scott Milder is a co-founder of Friends of Texas Public Schools, a nonprofit organization that aims to educate Texans about the achievements of Texas public schools. He and his colleagues seek to highlight the significance of public schools, unite Texans around them, and restore pride and confidence in them. Scott has spent 25 years in the educational architecture industry, specializing in facilities planning, bond planning, and community relations. In 2013, Scott was elected to the Rockwall City Council and served two terms. Then, in 2018, Milder ran for Lieutenant Governor in the Republican Primary to mobilize the educator vote and put some pressure on the incumbent to reconsider his hostile politics toward public education. He is currently Principal and K-12 Market Leader at VLK Architects. Scott began his professional career as a newspaper reporter and photographer, then served the Galena Park and Mesquite independent school districts as public information officer where he was responsible for promoting the great things happening in these ISD's. Scott earned his bachelor's degree in journalism and master's degrees in public relations from the University of North Texas.
Parisa Fatehi- Weeks: Parisa Fatehi-Weeks serves as Senior Director of Global Social Impact for Indeed as well as Board President for the Workers Defense Project, an immigrant workers' rights organization. Before Indeed, she led the digital inclusion portfolio at Google.org.  Parisa was born in Iran and grew up in Austin. She previously served as staff attorney at Public Advocates, a nonprofit civil rights law firm in San Francisco, where she advocated for greater access to affordable housing and public transit for low-income communities and communities of color. Prior to that, she was a law clerk to U.S. District Court Judge Vanessa D. Gilmore and worked for the U.S. Environmental Protection Agency in Washington, D.C. She is a graduate of UT-Austin, where she was student body president and received her B.A., J.D. and Master's in public affairs. She and her husband, Bryan, have two daughters, Roxana and Farah.
Sheryl Scully: Sheryl Sculley served as city manager of San Antonio, Texas from 2005-2019, leading a municipal corporation of 13,000 employees, an annual operating and capital budget of $2.8 billion, and a city population of 1.5 million residents. She assembled a highly effective team and implemented ambitious capital campaigns, resulting in more than $3 billion invested in infrastructure improvements. Sculley's leadership also led to the design and implementation of PreK4SA, a high-quality early childhood education program. She developed numerous leadership academies and mentoring programs for city employees, and her succession planning resulted in several of her deputies and assistants being promoted to top city management positions in San Antonio and beyond. Sculley is also an author, adjunct professor, and serves on several boards and organization
Hon. Larry Gonzales: Former Republican Texas House of Representatives member representing District 52. He was elected to the chamber in 2010 and resigned from office in June 2018. Gonzales earned a bachelor of arts in government from the University of Texas-Austin in 1993 and a master's degree in public administration from Texas State University in 2011. Before his election, he owned a graphic design and communications company, and he worked as the assistant vice chancellor for governmental relations for the Texas State University System. 
Representative James Talarico: Texas House Member, Talarico is a former public school teacher and education non-profit leader who was first elected to the Texas House of Representatives in 2018. Rep. Talarico earned degrees from The University of Texas at Austin and Harvard University. He taught middle school on the West Side of San Antonio before becoming the Central Texas Executive Director of an education non-profit. He currently serves on the Public Education Committee, the Juvenile Justice and Family Issues Committee, and the Calendars Committee. For his accomplishments in office, Rep. Talarico was named one of the Top 10 Best Legislators by Texas Monthly magazine.