Consider, Converse, and Connect! Pizza & Politics is a monthly interactive discussion of current events and free pizza.
Interested in monthly civic dialogue to get connected with industry professionals and peers?
Sponsored by the Lebermann Foundation, Pizza & Politics invites you to an enriching experience where you'll have the exclusive opportunity to speak directly with influential speakers who shape our society. Dive into thought-provoking discussions on pressing issues and enjoy free pizza, all while connecting with fellow college students who share your passion for civic engagement. Space is limited, sign up now to take advantage of this exclusive opportunity to directly share your perspective with field experts and hear their views firsthand in a candid and open setting.
This event will be held in the Governor's Room at the Texas Union (UNB 3.116). Event starts at 5:30 pm for pizza and networking, discussion begins at 6:00 pm. 
Event speakers and topics will be announced in the lead up to the event. Please contact strauss.intitute@austin.utexas.edu with any questions.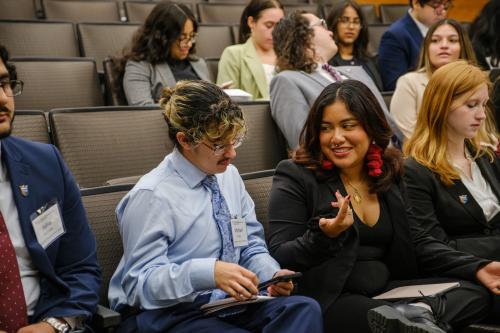 Jehmu Greene
September 11th meeting
Co-founder and CEO of We Defend Truth, an organization battling online disinformation; a founding board member of VoteRunLead, an organization inspiring women to careers in politics; a former political analyst on Fox News Channel; and former President of Rock the Vote. Jehmu began her career in politics working for Ann Richards and as chair of Texas Young Democrats.
Bryan Jones
September 11th meeting
A tech entrepreneur with a diverse background in commerce, healthcare, and advertising. He currently serves as the Chairman of the Board of Tech Policy Press, a non-profit dedicated to advancing a pro-democracy movement within the tech and tech policy sectors. He previously held the role of Chairman at Stand Up Republic, an organization founded by former Republican Presidential candidate Evan McMullin, committed to promoting liberty, equality, and truth in America. Bryan also holds positions as a cybersecurity fellow at the LBJ School's Strauss Center for National Security and as an adjunct professor at UT Law School.