The Annette Strauss Institute for Civic Life's mission is to educate, inspire, and connect the next generation of Texas civic leaders. The collective expertise of our team allows us to build dynamic leaders through civic innovation, political skills and inclusive values.
Staff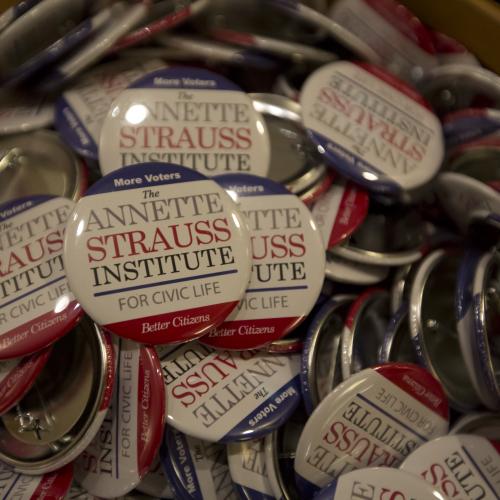 Bianca Solis
Outreach Program Coordinator, New Politics Forum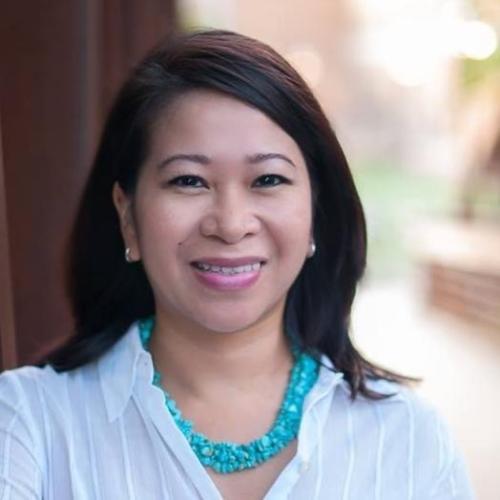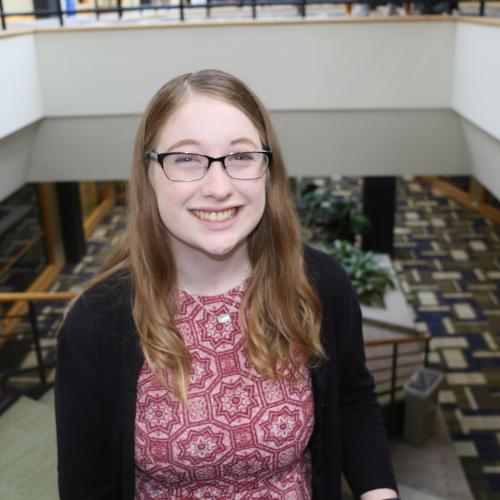 Krista Gehlhausen
Graduate Research Assistant, TX Votes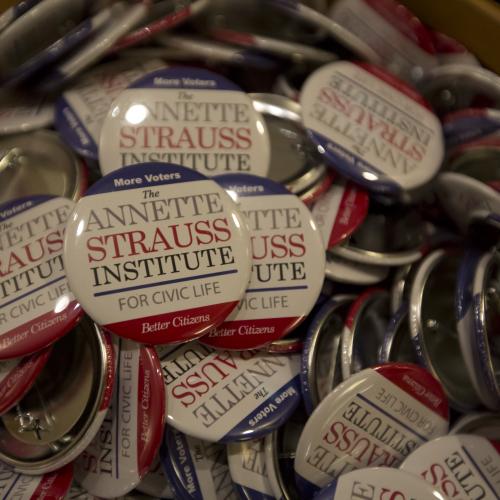 Senior Educational Outreach Coordinator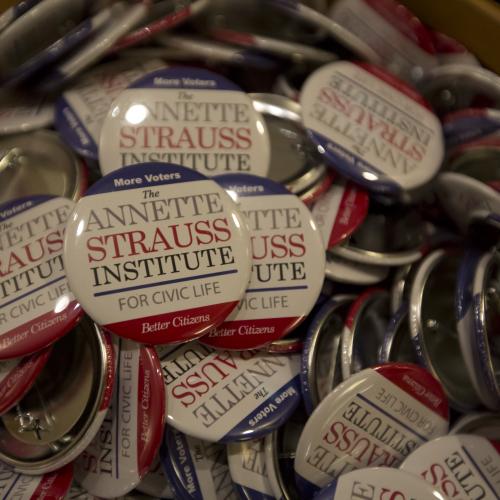 Event Program Assistant, New Politics Forum
Student Staff
Jane Cleary, K12 Intern
Bianca Mora, ASI Research Intern
Campbell Williams, Collegiate Intern
Faculty Collaborators
Jennifer Adair, Education
Patrick Bixler, LBJ School
Josh Blank, Texas Politics Project
Joe Cutbirth, Communication
John Daly, Communication
Victoria DeFrancesco Soto, LBJ School
Meme Drumwright, Communication
Suchi Gururaj, Division of Diversity and Community Engagement
Jim Henson, Government
Peniel Joseph, LBJ School
Dave Junker, Advertising & Public Relations
Robert Luskin, Government
Art Markman, Psychology
Gina Masullo, Journalism & Media
Matt McGlone, Communication
Katherina Payne, Education
Richard Reddick, Education
Stephen Reese, Communication
Nancy Schiesari, Radio Television Film
Jay Scribner, Education
Daron Shaw, Government
Ya'Ke Smith, Radio Television Film
Bartholomew Sparrow, Government
David Springer, LBJ School
Keri Stephens, Communication
Sean Theriault, Government
Paul Toprac, Computer Science
S. Craig Watkins, Journalism & Media
Stephen Vladeck, Law, LBJ School
Hannah Wojciehowski, English
Advisory Council
Rodney Schlosser & Denise Davis are Co-Chairs.
| | | |
| --- | --- | --- |
| Mr. James Adams | Mr. James Aldrete | The Hon. Ernest Angelo Jr. |
| Ms. Ellen Arnold | Mr. Daniel Becka | The Hon. Chris Bell |
| Mr. Jay Brown  | Mr. Kevin Burnette | Mr. Snapper Carr |
| Mr. Stan Casey | Ms. Marjorie Clifton | Ms. Lisa Craven |
| Ms. Denise Davis | Ms. June Deadrick | Mr. Ted Delisi |
| Mr. Randy Erben | Mr. Alan Feld | Ms. Kathy Garcia |
| Mrs. Nancy Halbreich | Mr. Mark Harkrider | Ms. Susan Hays |
| Mr. Rob Johnson | Mr. Russ Keene | Mr. Rusty Kelley |
| The Hon. Cyndi Krier | The Hon. James "Pete" Laney | Mr. Greg Levenson |
| Mr. Cappy McGarr  | Mrs. Janie McGarr | Mr. Kevin Moomaw |
| Ms. Linda Lea Moore | Ms. Pasha Moore | Mr. Mike Myers |
| The Hon. Elliott Naishtat | Mr. Sam Perry | Mr. Hector Rivero |
| Dr. Stefanie Sanford | Mr. Rodney Schlosser | The Hon. Florence Shapiro |
| Mr. Dave Shaw | Mr. George Corless Shipley | Mr. Brian Shivers |
| Ms. Terri Broussard Williams | Ms. Anjali Zutshi | Mr. Carlos Zaffirini |
|   |   |   |
Honorary Council Members
* Former Co-Chair ♦Deceased 
| | | |
| --- | --- | --- |
| Ms. Arcilia Acosta | Ms. Elaine Agather | Mr. Gilbert Aranza |
| The Hon. Ben Barnes | The Hon. George Bayoud, Jr.  | The Hon. Henry Bonilla |
| Ms. Christy Carpenter * | Mrs. Jo Anne Christian ♦ | Ms. Angela Collins |
| The Hon. Tom Dunning | Ms. Suzanne Erickson | Mr. Hill Feinberg |
| Mr. Jim Francis | Ms. Shirley Green | Mr. Jeremy Halbreich |
| The Hon. John Hammack ♦  | Dr. Katherine Hammer | Ms. Jan Hart-Black |
| The Hon. Karen Hughes | Ms. Marsha Jones | The Hon. Ron Kirk |
| Mr. Tom Lardner | Mr. Lowell Lebermann ♦ | Ms. Shana Harnisch Levenson |
| The Hon. Tom Loeffler | Mr. Dickson Louie | Mr. Tom Luce |
| Mr. Wales Madden ♦ | Dr. Willis Maddrey | Mr. Bob Mann ♦ |
| Mr. Jack Martin | Mr. Rob Mosbacher | Mr. Erle Nye |
| Ms. Rena Pederson | Mr. H. Ross Perot, Sr. ♦ | Mr. Gerald Ray |
| Ms. Karen Reagan | Prof. Elspeth Rostow ♦ | Ms. Jenifer Sarver * |
| Mr. Pete Schenkel | Mr. Paul Serff | Mr. Allan Shivers, Jr. *♦ |
| Mr. Robert Spellings | Mr. Ron Steinhart | Mrs. Sue Strauss |
| Mr. Theodore H. Strauss ♦ | Dr. Charls Walker ♦ | Ms. Eleanor Waddell *  |
| Mr. Joe Bill Watkins | The Hon. Ralph Wayne | Mr. Rob Wiley |
| The Hon. Anne Wynne | Dr. Molly Beth Malcolm* | Mr. Lemuel Williams |