Texas State Legislators on Facebook in the Lead-Up to the 2022 Election
Our 2022-2023 ASI Student Intern, Bianca Mora, completed a research project this past year that explores the presence, or lack thereof, of Texas State Legislative Members on Facebook in the lead-up to the 2022 election. You can find the full report here. 
In a few sentences, what did you do?
I examined the Facebook pages of our Texas legislators and gathered information on the sentiment of posts, the topics discussed, and the overall number of posts on each page. After a good deal of coding and reliability testing, I sorted the data by gender, political party, and legislative body. From there, I was able to create several graphs, analyze them, and compile all the information into a report.
What was the most surprising thing that you learned from your research about posts on Texas state legislators' Facebook pages?
When I first began this project, I expected a very large difference between Democrats and Republicans in the percentage of posts regarding political topics. Although there are gaps between the two parties on certain topics, they are not as large as I had thought they would be. For some political topics, there is only a 1% difference between the percentage of posts from Democrats and Republicans. Meanwhile, Economy, the topic with the largest gap, is just shy of a 5% difference.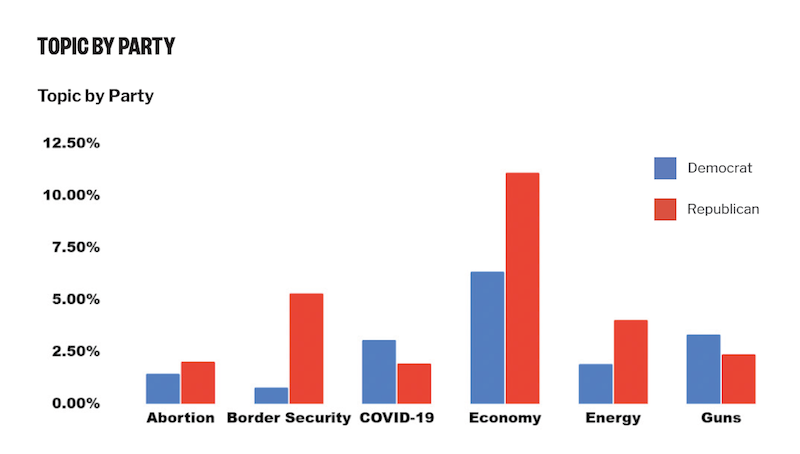 Tell us a few more interesting things that you learned.
While I learned a good deal about the overall use of Facebook by the legislature, I also got some insight into the political interests and sentiments of individual legislators. I was able to gather data on which legislators' Facebook pages posted the most on a particular topic as well as who had the most positive or negative sentiment. For example, when it came to which page posted the most on each topic, Sam Harless took the lead for nearly every topic. Similarly, I learned that Barbara Gervin-Hawkins was the Facebook page with the most positive sentiment, with State Representative Rhetta Andrews Bowers following close behind.
If a Texas State legislator's social media staff asked you what they should do differently on Facebook, what would you tell them?
There were many different ways legislators used Facebook to connect with their constituents. Some focused strictly on politics while others included aspects of their personal lives. Some legislators would also post multiple times a day while others posted only once or twice a week. I think no matter how they use social media, legislators should regularly inform their constituents about the legislation they are working on and occasionally discuss their stance on unfolding events or political issues. 
Why should people working on social media at the state capitol read your report?
My report focuses on the overall Facebook activity of Texas legislators, which could give social media staff at the state capitol a greater understanding of how their counterparts use social media. By learning more about the main issues discussed online and reflecting upon their own social media activity, social media staff may also discover different ways to enhance their social media presence.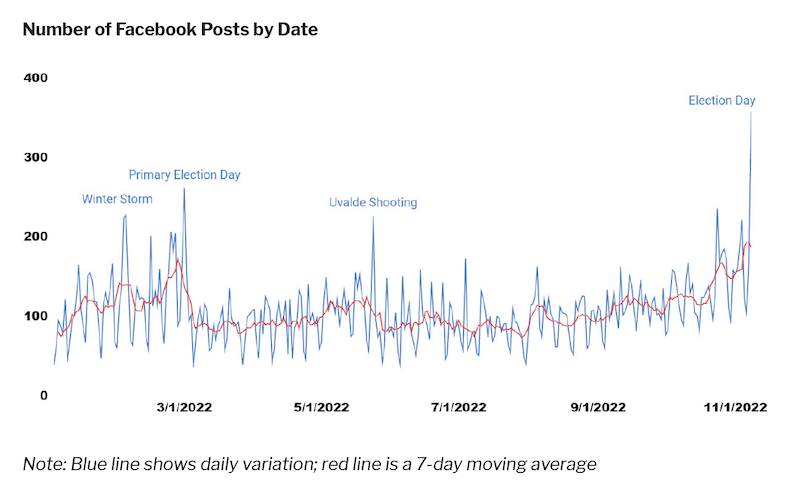 What was the most challenging part of doing this research?
Manually going through a sample of 1,000 posts to make sure they were in the correct topic categories was the most challenging part of this research for me. Some of the posts in the sample were ambiguous or contained political dialogue that I was not familiar with. To ensure that the computer would not let any target posts slip through, the list of synonyms had to be constantly updated and the manual coding process had to be repeated a couple of times until we finally had it at a 99% accuracy rate.
What was the most fun?
I found R coding to be really fun! Since it was my first time encountering the R programming language, I had to learn the basics from my supervisor, Dr. Stroud. Under her guidance, I learned how to obtain valuable information from large data sets. I really liked how quick and efficient it was for producing results and keeping things organized. Figuring out how to create a code that would get me the data I wanted was like a puzzle, and there was nothing better than victoriously solving the puzzle and getting ahold of a treasure trove of data!
Why do you think that this is an important project for the Annette Strauss Institute for Civic Life?
The mission of the Annette Strauss Institute for Civic Life is to "educate, inspire, and connect the next generation of Texas civic leaders." This project contributes to the ASI mission by providing a look into how Texas legislators use social media to interact with their constituents. Those who are interested in knowing more about their state legislature and the issues that are important to them will be able to obtain a deeper understanding through the information and statistics provided in the report. My hope is that those who read this report will feel inspired to learn more about their state legislature, become more civically involved, and maybe even do some research of their own.