Announcing Our New Director, Mark Strama
Former Texas State Representative and Google Fiber executive takes helm of the Annette Strauss Institute for Civic Life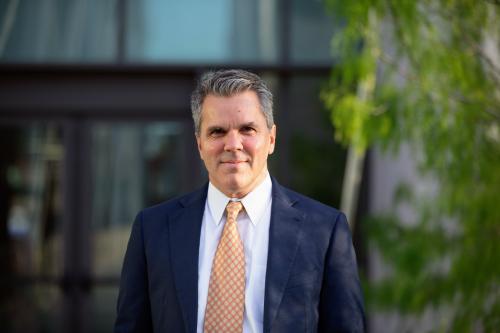 With political polarization on the rise and civic trust decreasing, former Texas State Representative Mark Strama is joining The University of Texas at Austin as new director of the Annette Strauss Institute for Civic Life.
The institute, which is housed in the Moody College of Communication, prepares the next generation of civic leaders through education, research and professional development. It was founded in 2000 by Moody College professor and former dean Roderick Hart and is named for former Dallas Mayor Annette Strauss.
Strama, who served five terms in the Texas House, exited politics in 2013 to lead Google Fiber's deployment in Austin. Prior to serving in the Legislature, he worked at Rock the Vote, a non-partisan, nationwide effort to register young voters, and founded the first company to enable Americans to fill out a voter registration form on the Internet.    
"There's never been a more important time to work on restoring the civic trust that binds us together as Americans," said Strama, who began in his new role effective April 1. "I learned a long time ago that a lot of the solutions to society's most difficult problems are best found by working with the next generation of civic leaders being developed at The University of Texas at Austin."
Strama hopes to expand the institute's focus to local government issues, where he said the immediacy of political issues mitigates against ideology and polarization. He will also capitalize on his relationships in government to create opportunities for lawmakers to reach across the aisle, and on his experience in the technology industry to examine ways social media might help repair political divisions.
"We are extremely fortunate to have such an accomplished civic leader join the Annette Strauss Institute and the Moody College faculty," said Moody College Dean Jay Bernhardt. "With his political and community outreach experience, Mark is the ideal person to lead the Institute as it focuses on increasing civic engagement in our divergent political climate."
Strama succeeds Moody College Communication Studies Professor Natalie Stroud, who served as interim director for the past year and a half and chaired the search for a new director.
"Mark Strama is a wonderful new addition to the Moody College," Stroud said. "His background as an elected leader in Texas, his experience working with city governments across the nation and his enthusiasm for civic engagement are a fantastic combination for leading the Annette Strauss Institute in the years to come."
In addition to his role as director of the Annette Strauss Institute, Strama will also teach courses in political communication at Moody College.
This semester, he is co-teaching two Plan II Honors courses, Pathways to Civic Engagement and Civic Viewpoints, with Professor Lee Walker, an adjunct professor in the College of Liberal Arts with over three decades of teaching experience at UT.
"Mark is a natural born teacher," Walker said. "Certain individuals click with students in a way that's really magic to watch. Mark has the right combination of empathy, the capacity to listen, and is well-versed in philosophy. He really has a gift outside the norm."
Strama will begin teaching courses in the spring of 2024 and in the meantime will focus on developing new programs and funding sources at the Annette Strauss Institute.